We know what your needs are
SHAKAMBRI OVERSEAS. is an international Trading House. The Trading Division comprised of Ferrous and Non-ferrous metal trading, Wood trading, Textile trading and General Trading. Our Team members are fully qualified and experienced professionals.
Based at Singapore, SHAKAMBRI trades in a variety of Primary and secondary products. SHAKAMBRI has been able to establish varied sources of procurement spread across the globe and supply to all parts of the world.
Understanding & responsibility

Accountability to stakeholders

Long-term relationship & not short-term gains
SERVICES
RANGE OF PRODUCTS WE SUPPORT
Inspiration & Model

 for companies willing to reach their dreams
We help transform your ideas and visions into winning projects.
How it turns from
Scrap to Bar?
Extracting of Ferrous & Non-Ferrous Metals &
Sheets and Coils through Collection, Dismantling, Pre-processing, Smelting & Refining process.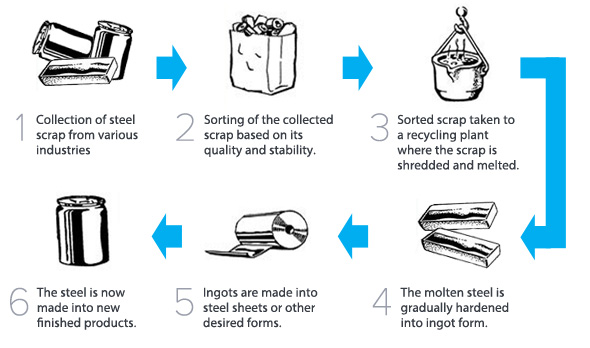 01
Collection
Collection of steel scrap from various industries
02
Sorting
Sorting of the collected scrap based on its quality and stability
03
Recycling
Sorted scrap taken to a recycling plant where the scrap is shredded and melted.
04
Ingot form
The molten steel is gradually hardened into ingot form.
05
Steel Sheets
Ingots are made into steel sheets or other desired forms.
06
Finished Prodcuts
The steel is now made into new finished products.

Ferrous Metals
Heavy Melting Scrap, Shredded Scrap, Cast Iron, Billets, Rerollable,
Ms Turning and Boring, CI Boring, Tin Busheling, Cold Roll Busheling, Plate and Structures, Slabs, Pipes and Fittings,  Rebars, Wire Rods, H/I Beams, Angles, Channels

Read More

Non-Ferrous Metals
Manganese, High Nickel, Duplex, Inconel.
Sheets and Coils like Cold Rolled,
Hot Rolled, CRGO, CRNGO, EG / GI
Tinplate / BP / TFS, Stainless Steel
Read More
QUOTE
INTERESTED IN COMMODITY TRADING?
Shakambri is one of Asia's leading suppliers of ferrous and non-ferrous products and has grown steadily and today has a strong client network throughout the world. We are regular direct end buyers and importers of all types of Primary, Secondary commodities for trading to all major Southeast Asian countries.
TESTIMONIALS
SEE WHAT SAYS OUR HAPPY CLIENTS
"Great Experience!! Shakambri Overseas has made the whole process easy. Shakambri & its team did a great job. I felt like Shakambri really listened to what I wanted, gave me ideas, and helped me decide and provided competitive pricing and on-time delivery to face clients with confidence."
– Diane
"I just wanted to say thank you to all of you for being collaborative, open, and  following business ethics in client facing. Shakambri Overseas has an experienced  and skilled team with commitment. "
– Jordan